KEWU 89.5 FM

Jazz 89.5 KEWU-FM is a non-commercial, educational radio station serving Eastern Washington University and the surrounding Cheney/Spokane metropolitan area. The station has an extensive and illustrious broadcasting history in The Inland Northwest.
Premiums
**Please note montlhy payments can only be made with a credit or debit card**
To show our appreciation for your support, KEWU offers 'Thank You" gifts for different pledge levels:
$60 or ($5 a month)
1 CD of the music of your choice(Jazz, Blues, Nightfall, Latin)
$89.50* 16 ounce Jazz 89.5 logo mug (the 3rd in a series of 4 will be navy blue with a red logo)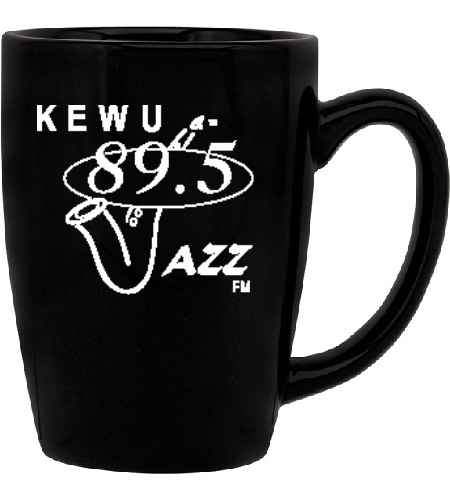 $120 or ($10 a month)
1 pound of 4 Seasons Coffee each month for a year
or
3 CDs of the music of your choice (Jazz, Blues, Nightfall, Latin)
$200 or ($16.67 a month)
KEWU logo coffee mug AND 4 Seasons Coffee package
$240 or ($20 a month)
12 CDs from the list below *(The list is not exhaustive, so please ask if you have a particular artist or type of Jazz you like. We will do our best to match you up with something you will enjoy!) or two 4 Seasons Coffee packages.
$500 12 cd's and pound of 4 Seasons Coffee every month for a year. *

Note: 4 Seasons Coffee cannot be shipped - it must be picked up (between 8 and 3 p.m. M-F) at the roastery located at 10 Grant Street in Spokane. For directions, please call 509.747.2315
A coffee certificate will be issued as soon as your pledge is processed and paid.
Sampling of available cd's - There are many more titles to choose from.
Nightfall
Amethystium - Isabliss, Thievery Corporation - It takes A Thief, Boards of Canada- Tomorrow's Harvest.
Blues
Eddie Cotton - Here I Come, Cassie Taylor - Out of My Mind, Blind Raccoon - Blues Sampler
Contemporary Jazz
Sonny Rollins - Road Shows Vol. 3, Eric Reed - Adventurous Monk, Eric Alexander - Chicago Fire, Harold Mabern - Right On Time, Nir Felder - Golden Age, Joshua Redman - Walking Shadows,Stanley Clarke Band - Up, Sean Jones - Improvise, Jimmy Heath Big Band - Togetherness, Jimmy Cobb -The Original Mob, Cyrus Chestnut - Midnight Melodies, Bobby Hitcherson, David Sanborn and Joey De Francesco - Enjoy The View, Regina Carter -Southern Comfort, Poncho Sanchez and the Latin Band -Live In Hollywood, Kenny Garrett- Pushing The World Away.
Vocals
Cyrill Aimee - It's A Good Day, Diane Schuur - I Remember You, Steve Tyrell - Its Magic: The songs of Sammy Cahn, Karrin Alyson - Round Midnight, Diana Krall - Glad Ragdoll